Euro 2004
GROUP A

Russia vs. Greece 2:1
Greece was upset by Russia 2-1 in their last Group A match Sunday, but the Euro 2004 surprise team advanced to the quarterfinals for the first time thanks to Portugal's win over Spain the other group game.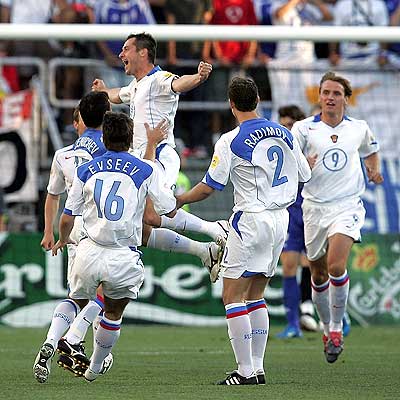 Spain vs. Portugal 0:1
Recap: Host Portugal wins Iberian showdown
Substitute Nuno Gomes fired host Portugal into the Euro 2004 quarterfinal and ousted neighbor Spain with the only goal in a 1-0 victory on Sunday. The Benfica striker fired a low 18-meter shot that ended up advancing the host nation and sending Spain home.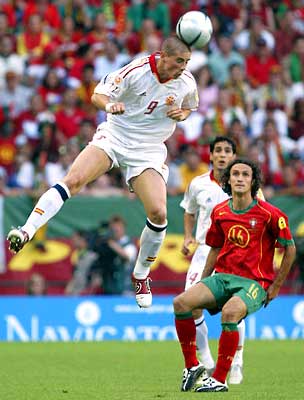 Associated Press
Jun. 20, 2004 4:37 p.m.

FARO, Portugal (AP)— Greece was upset by Russia 2-1 in their last Group A match Sunday, but the Euro 2004 surprise team advanced to the quarterfinals for the first time thanks to Portugal's win over Spain in the other group game.

Greece and Spain finished level on four points and tied 1-1 in their head-to-head game. But Greece advanced because it scored more goals. Greece scored four and conceded four, while Spain's overall score was 2-2. Portugal won the group with six points

"I think we fulfilled all the promises we made at the start of the competition," said Greek captain Theodoros Zagorakis. "After our win over Portugal in the first match, I said all of Europe would be talking about Greece. Now, I think the whole world will be talking about us. We made the worst start today. I really don't know what happened. But what counts is that we qualified."

Striker Dmitry Kirichenko split the Greek defense with a good run in the second minute to score the fastest goal in European Championships history and give Russia a 1-0 lead.

Dmitri Bulykin made it 2-0 in the 17th minute, after he was left unmarked to head in a corner kick from the near side. Zissis Vryzass narrowed the lead in the 43rd minute, tucking in a vital goal for Greece from close range.

"People might say we didn't need this victory," said Russia coach Georgy Yartsev. "I think we very much needed it. The Russian soccer needed it. Look at how many rookies we had."

The Russians were unfettered by any pressure and their play was for the most part fluid and attractive, coming mostly from counter-attacks.

Vryzas had an early chance for Greece on the turn in the box, his shot was too tame and off target.

Kirichenko, who was having a great start, almost won a penalty in the 10th minute, after he tried to slip in front of Georgios Seitaridis, but referee Gilles Veisseire waved play on.

Angelos Basinas was denied by some good goalkeeping from Viacheslav Malafeev, who dived to parry the midfielder's low shot around the wall.

Andrey Karyaka could have scored for Russia soon after but he blasted over the top of goal alone before the 'keeper.

Less than a minute later, Angelos Charisteas did the same on the other end.

Vassilis Tsiartas had the first chance after the interval with a toothless shot from outside the box that was easily picked up by Malafeev.

Then Kirichenko had two chances, one of them with a spectacular overhead kick that went wide.

Substitute Dmitri Sychev also had two chances in succession, a long range shot smothered by goalie Antonis Nikopolidis and a header from the ensuing corner kick that went wide.

Zagorakis blasted a half-chance right after over the bar from a distance on the other end.

Kirichenko, who was running rings in the Greek defense, was on hand again for Russia with 15 minutes to go, whipping a powerful shot from a distance into the safe hands of Nikopolidis.

The last 15 minutes saw a desperate Greek outfit trying to beat stubborn Russian defenders.

Tsiartas, a free-kick specialist, showed his skills with a curling shot from about 30 meters out, forcing Malafeev to claw the threat with a dive to the right for a corner kick.

Kirichenko was close again in three minutes from time after Vladislav Radimov went on a swift run down the far flank, but his lunging attempt to connect on the perfect low cross was easily cleared out of danger.

Lineups:

Russia: Viacheslav Malafeev; Alexander Anyuokv, Roman Sharonov (Dmitry Sennikov, 55th), Alexey Bugaev, Vadim Evseev, Rolan Gusev, Vladislav Radimov, Andrey Karyaka (Igor Semshov, 46th) 45th), Dmitry Alenichev, Dmitri Bulykin (Dmitri Sychev, 46th), Dmitry Kirichenko.

Greece: Antonios Nikopolidis; Stylianos Venetidis (Panagiotis Fyssas, 89th), Traianos Dellas, Mihalis Kapsis, Georgios Seitaridis, Angelos Basinas (Vasilios Tsiartas, 42nd), Theodoros Zagorakis, Dimitrios Papadopoulos (Themistoklis Nikolaidis, 70th), Konstantinos Katsouranis, Angelos Charisteas, Zisis Vryzas.


LISBON, Portugal (AP)— Substitute Nuno Gomes fired host Portugal into the Euro 2004 quarterfinal and ousted neighbor Spain with the only goal in a 1-0 victory on Sunday.

The Benfica striker fired a low 18-meter shot past Iker Casillas in the 57th minute to spark celebrations among the Portuguese fans in the Jose Alvalade stadium.

The result meant that the hosts survived a stunning opening game loss in Group A to Greece. Portugal finished atop the group with six points.

The Portuguese qualified along with the Greeks and the loss meant Spain, which was held 1-1 by Greece in its previous game, didn't reach the last eight. The Greeks finished level on points with Spain but advanced because they scored more overall goals.

Cristiano Ronaldo, who scored Portugal's late consolation goal in the 2-1 loss to Greece, was given a start before 47,491 fans and with Luis Figo operating on the other flank against four of his Real Madrid teammates. With Deco probing in the center, the host team played imaginative soccer to pressure the Spanish defense.

Spanish goalkeeper Iker Casillas made a fine blocking save at the near post from a rising 20-meter shot from Maniche in the 19th minute.

Just before halftime, Ronaldo jumped high to glance a header just past the far post after Casillas left his line and failed to reach a well-flighted Luis Figo cross from the left wing.

The Portuguese were struggling in the early stages of the second half even with Nuno Gomes on for the ineffective Pauleta.

But the substitute put the host nation ahead in the 57th minute when he collected the ball with his back to goal just outside the area, turned past Juanito and fired a low shot past Casillas into the bottom left corner.

Spain should have leveled two minutes later when Ricardo failed to punch away a leftwing cross and Raul headed wide of the far from five meters out.

Fernando Torres went agonizingly close to leveling in the 61st minute when he ran onto a pass from David Albelda and got clear of the Portuguese defense. Ricardo raced off his line but was beaten, only for Fernando Torres' shot to hit the post and bounce clear.

Luis Figo curled a 25-meter free kick round the wall and Casillas made an acrobatic save to push the ball round the post. From the corner, Costinha climbed well to try and force home a close range header but the Real Madrid 'keeper again blocked it.

Spanish substitute Albert Luque had a chance to level when a cross found him free in front of goal with Ricardo off his line. But his tame header was cleared by Ricardo Carvalho. The resulting corner reached Juanito wide of the far post and his header bounced off the crossbar.

Costinha should have made it 2-0 with three minutes to go but, totally unmarked and with just Casillas to beat, he headed high over the bar.

Then Maniche got round the goalkeeper but his angled shot was cleared off the line by Rauyl Bravo.

Lineups:

Spain: Iker Casillas; Carles Puyol, Juanito (Fernando Morientes 81st), Ivan Helguera, Raul Bravo; Xabi Alonso, Raul Gonzalez, David Albelda (Ruben Baraja 66th), Vicente Rodriguez, Joaquin (Albert Luque 72nd); Fernando Torres.

Portugal: Ricardo; Ricardo Carvalho, Jorge Andrade, Nuno Valente, Miguel; Luis Figo (Armando Petit 78th), Costinha, Deco, Maniche, Cristiano Ronaldo (Fernando Couto 85th, Pauleta (Nuno Gomes 46th).

Referee: Anders Frisk, Sweden.