Euro 2004: Italy 2, Bulgaria 1
GUIMARAES, Portugal (AP)— Italy scored an injury time winner through Antonio Cassano for a 2-1 victory over Bulgaria but still went out of Euro 2004 on Tuesday.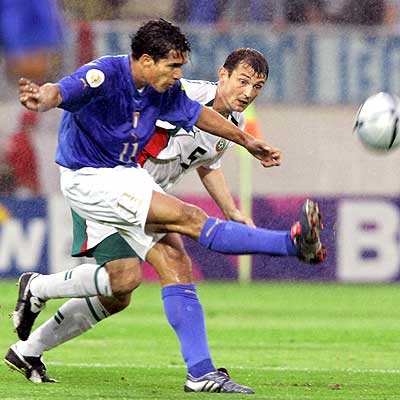 Martin Petrov converted a penalty kick in the final minute of the half to put Bulgaria ahead in the teams' Group C finale and midfielder Simone Perrotta equalized for Italy in the 48th.

The game was into the third minute of injury time when Cassano scored the winner but the Italians heard that Denmark and Sweden had tied 2-2 which put the Italians out.

The victory, coupled with 0-0 and 1-1 ties against Denmark and Sweden in its opening matches, made Italy the first team to be eliminated from the Euros without a loss since group play was introduced in 1980.

Cassano's delight in scoring the winner was soon ended when the Italians heard the result from Porto. Because the two Scandinavian neighbors tied 2-2, the Italians went out on goal difference through they all finished with five points.

A light, consistent rain made for a slick field at Dom Henriques stadium and both teams had trouble staying on their feet.

Inter Milan defender Marco Materazzi, playing in place of suspended captain Fabio Cannavaro, was called for tripping Bulgaria's star striker Dimitar Berbatov inside the area to set up the penalty.

Petrov, who plays for Wolfsburg in Germany, then slipped a low shot to the right of Gianluigi Buffon as the Italy goalkeeper went the wrong way to the delight of the lively Bulgarian fans sitting directly behind the goal.

Perrotta's score was his first national team goal.

After Antonio Cassano's shot struck the crossbar, Perrotta used an acrobatic flick of his leg to knock in the bouncing rebound.

In the 53rd, centerforward Christian Vieri replaced Bernardo Corradi in Italy's attack. Vieri, who started the match on the bench due to a left knee injury, had a chance to put Italy ahead in the 61st when he came flying in to the area, but his header went high.

Vieri sent another header high from a perfect position - five meters (yards) out - in the 73rd.

In the 80th, Cassano's powerful, twisting attempt from an angle went wide.

Bulgaria nearly regained the lead with a free kick by Berbatov six minutes from the end but Buffon made an excellent, diving save.

In the first half, Italy struggled to organize its attack.

Bulgaria pressed early and had the first decent chance in the 13th minute when Petrov's snap shot was saved near the post by Buffon.

A minute later, Italy countered with two quick attempts after Cassano centered from the right flank.

First, Gianluca Zambrotta's shot was stopped with a one-handed save by Bulgaria 'keeper Zdravko Zdravkov and then Alessandro Del Piero sent the rebound just wide from close range.

In the 24th, Petrov's free kick landed at the feet of Materazzi and his clearance was sent back at Italy's goal with a driving shot by Ilian Stoyanov that went high.

Materazzi's weak header was caught by Zdravkov in the 27th.

Petrov had another chance on a counterattack in the 29th, with his long, angled shot stopped by a diving save from Buffon.

Italy's next chance came in the 32nd, when Cassano knocked a bouncing ball wide with only the 'keeper to beat.

Del Piero, wearing the captain's armband in place of Cannavaro, had a good free kick opportunity in the 41st, but Zdravkov stopped the shot easily on a short hop.

Italy played without several key starters.

Star playmaker Francesco Totti served the second of a three-match ban for spitting at a Danish opponent in the team's opener and Cannavaro and Gennaro Gattuso were disqualified for picking up two yellow cards in the team's first two matches.

Bulgaria, which lost 5-0 and 2-0 to Sweden and Denmark in its first two matches, was already mathematically eliminated entering Tuesday's game.

Lineups

Italy: Gianluigi Buffon; Christian Panucci, Marco Materazzi (sub: Marco Di Vaio 83rd), Alessandro Nesta, Gianluca Zambrotta; Stefano Fiore, Andrea Pirlo, Simone Perrotta (Massimo Oddo 68th); Alessandro Del Piero; Antonio Cassano, Bernardo Corradi (Christian Vieri 53rd).

Bulgaria: Zdravko Zdravkov; Ilian Stoyanov, Predrag Pazin (Kiril Kotev 64th), Zlatomir Zagortchitch, Daniel Borimirov, Marian Hristov (Velizar Dimitrov 79th), Zoran Yankovich (Valeri Bozhinov 46th), Milen Petkov, Martin Petrov, Dimitar Berbatov, Zdravko Lazarov.

Referee - Valentin Ivanov, Russia.