Euro 2004: QUARTERFINAL 3 - Netherlands wins 5-4 on penalties
QUARTERFINAL 3

Netherlands 0, Sweden 0 (Netherlands wins 5-4 on penalties)
Recap: Dutch end shootout misery
The Dutch ended their shootout misery by beating Sweden 5-4 on penalties after a 0-0 extra time tie on Saturday to reach the Euro 2004 semifinal

Having lost in the three previous Euros on penalty shootouts to Denmark, France and Italy and also to Brazil at the 1998 World Cup, the Netherlands were 0-4 going into this series against the Swedes.

What made it worse was that Sweden had won its only shootout against Romania in San Francisco at the 1994 World Cup.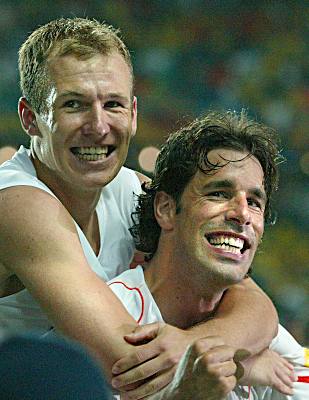 But goalkeeper Edwin Van der Sar guessed right and dived to save a spot kick from Olof Mellberg to keep the shootout score tied at 4-4. Then Arjen Robben coolly beat Swedish 'keeper Andreas Isaksson from the spot to put the Dutch through to a semifinal meeting with host Portugal in Lisbon on Wednesday.

"At last, we have been able to do it. Fantastic," said Robben, who will play for Chelsea next season.

With regards to his penalty, he said: "I didn't think, put my brains in neutral and told myself 'I will make it."'

The game itself at the Algarve Stadium in Loule was poor quality although Sweden's Henrik Larsson hit the crossbar and teammate Fredrik Ljungberg struck the post and Isaksson made a brilliant one-handed save to keep out a free kick from Dutch midfielder Clarence Seedorf.

The result meant the Dutch didn't follow five more powerhouse teams out of the championship.

Defending champion France, Spain, Italy, Germany and England all failed to reach the semifinal, the Spaniards, Italians and Germans getting knocked out in the first round of group games and the French and English beaten in the quarterfinals.

The winner of Sunday's remaining quarterfinal between former champions the Czech Republic and Denmark in Porto will face surprise semifinalist Greece in the other semi. The final is July 4 at Lisbon's Stadium of Light.

Meanwhile, France was getting used to life without a major title.

Although the French still have the Confederations Cup, they lost the World Cup two years ago and, on Friday, said farewell to the European Championship title when they were upset 1-0 by huge underdog Greece.

"We couldn't be the best forever," veteran defender Bixente Lizarazu said Saturday. "There's no excuses, we did not manage to step up a level."

At least coach Jacques Santini has a new job to look forward to. He takes over as manager of Tottenham Hotspur in two weeks time.

"Spurs can trust me," said Santini, who takes over a team that struggled to 14th in the Premier League last season and hasn't won the English title since 1961. "Whatever my future holds, I will always be very determined to get results and get the most pleasure out of football."